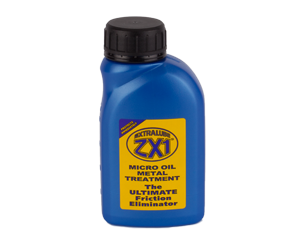 EXTRALUBE ZX1 Micro Oil Metal Treatment is a friction eliminator, it is a particle free fluid which remains in colloidal suspension within the lubricating medium be it oil, petrol, diesel or even water, until a relatively low temperature activates the unique thermo chemical bonding process.
Unlike conventional "additives"EXTRALUBE ZX1 MICRO OIL METAL TREATMENT FRICTION ELIMINATOR is a radical departure in the hi-tech field of low frictional wear technology providing:
Increased component life and reliability.

More power

Lowered carbon exhaust emissions

Increased MPG

Excellent cold start protection and anti-wear performance

Protects immediately up to 25,000 miles

Impregnated wearing surfaces

Virtually eliminated friction.
The introduction of EXTRALUBE ZX1 Micro Oil Metal Treatment does not change the properties of the standard lubricating medium and is suitable for use in all Petrol, LPG and two stroke engines; transmissions, differentials, and hydraulic systems.
Comprehensively tested and proven by the U.K Atomic Energy Authority and the Japanese Lubricating Society, EXTRALUBE ZX1 Micro Oil Metal Treatment defeated the crucial "Four Ball" wear test and has repeatedly exceeded the limits of the worlds standfard equipment for friction and wear testing.
EXTRALUBE ZX1 Micro Oil Metal Treatment purely uses any lubrication medium irrespective of type to transport itself to the componets, be it any form of oil, fuel, grease and even water. It is the non- particulate micro oil technology that does not contain P.T.F.E Molybdenum etc, therefore it cannot compromise tolerances or clog filters and oilways.
How is EXTRALUBE ZX1 Micro Oil Metal Treatment different?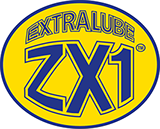 Oils refined from crudes are not particularly good lubricants. Over the years, additives and complete synthetics have been developed to improve lubricity, film strength, stability, and anti-corrosion and cleaner operation.
Even so, it has been demonstrated that friction co-efficient can be further enhanced by introducing surface modifiers into oils. These are traditionally polymer or metallic compounds with perceptible thickness.
EXTRALUBE ZX1 Micro Oil Metal Treatment is a more elegant solution to the problems of friction wear; it is FREE ENTIRELY of congealing agents which can affect flow rates, design tolerances and the working or small active components.
The re-engineered hydrocarbon molecules in EXTRALUBE ZX1 Micro Oil Metal Treatment actually synergise with ferrous and non ferrous metals on contact, forming a complex long-chain molecular bond which is extremely slippery and tenacious.
EXTRALUBE ZX1 Micro Oil Metal Treatment acts as an intermediate, microscopic rubbing surface which continues to function after the oil film has broken down. It is measurably effective at extreme pressures and temperatures.
EXTRALUBE ZX1 Micro Oil Metal Treatment has been formulated to avoid harmful side-effects, not only uncontrolled surface build up but contains no solids or sediments and is compatible with metals, non metals and all known lubricants including synthetics when applied and directed.